News
17.9.2020
12min read
7 ways to save money when traveling to Chernobyl
Some people are wondering why a trip to Chernobyl costs almost like an all-inclusive vacation to the beach. Here are some tips on how to save your money before and after your Chernobyl tour.
After my first trip (2 days) to see Chernobyl, I wondered why I did not go for a week and I even did not travelled that far – only from Slovakia. After 12 years I see tons of ways in where to save your money on your Chernobyl trip. At the same time, I am not able to give you some extreme tips for saving on your Chernobyl visit, as I believe that after 24 hours in a car, eating home-made salami sandwiches, or sleeping somewhere on a bench will make you suffer and not enjoy your time in Chernobyl…or anywhere else. Vacation is to treat yourself, right?

1. How can I get to Ukraine in an affordable way?
Train – very affordable, not very comfortable and clean, but definitely worth considering if you are from Poland, the Czech Republic, Slovakia, Hungary, or Austria. Check for direct trains to Kyiv and a return ticket might not cost more than 100 €. Most of the international trains to Ukraine were temporarily stopped during the pandemic, make sure you check the actual timetables. It takes more than a day to get to Kyiv, make sure you book a couchette or first class ticket to have a good bed and clean linens for your sleep. A big advantage: most of the sleeping trains arrive to Kyiv very early in the morning and depart in the evening, thus you can save money for a hotel and you can use the whole day in Kyiv for exploring. Train schedules – only for Ukraine here.
P.S. If you are a fan of trains and you should consider our Chernobyl Power Plant and Pripyat tour which also consists of a return train ride from the Chernobyl Power Plant to the newly built Slavutych and back. Super comfy, authentic, and – picture this – you travel via Belarus (no visa needed).
It is not a cheap Chernobyl tour, but it is the one that features visiting the Chernobyl Power Plant from the inside and to learn what exactly happened there.
Car – very flexible, not very comfortable (bumpy roads of Ukraine), risk is getting stuck at the borders waiting for 3+hours (especially crossing Schengen borders back from Ukraine). Besides being tired after driving there is one fun fact considering driving to Ukraine: prepare spending more money on fines than fuel (relatively cheap in Ukraine). A car ride from Western borders to Kyiv and back can cost you around 80 €, but save another 100 € for bribes, fines, or drive super careful and use Waze. If you split the costs between 4 passengers, this seems to be very affordable way to tour Chernobyl. Oh, by the way, below you can find tips on how to save money on your Chernobyl trip with your own car.
Airplane – finally, fastest and the most comfortable way, yet at the same time maybe not be the preferred one during these pandemic times. Booking at least 1 month ahead can help you get a return ticket to Kyiv from Hungary, Germany, UK, Poland, Slovakia or Austria under 100€. Well, with a little bag and without any perks of course. Check Wizzair, Ryanair, SkyUp airlines. BTW One air corridor cuts through the Chernobyl Zone and if you are lucky with the weather, you might be able to see the New safe confinement of the Chernobyl Power Plant from above. It is not a free Chernobyl tour, but a nice bonus 😉
2. How can I move around in Kyiv and Ukraine on a budget?
Photo: UA.NEWS
Train – very affordable and comfortable, but sometimes clumsy, as you must buy a ticket for a seat and if everything is occupied – you are doomed and can get stuck in the middle of nowhere.
Bus and shuttle bus – very flexible, no bookings up front, and affordable. However, it might be packed and it is very slow as it stops basically everywhere the driver sees potential passengers. The timetable is an issue as the shuttle busses are not very regular and most of them do not stick to any timetable. They drive when there is a demand. A ticket for a bus from one side of the city to the another will not cost more than 0.4 €.
Metro – the fastest way to move around Kyiv and a ticket (one ride) is only 0,25 € is a no-brainer. At least visit the deepest metro station in Europe – Arsenalna. The same ticket price goes for any other public transport in Kyiv: bus, tram, cable car… Taxi – recommended only within the city. Do not pick up a cab from the street – there is a high chance you will be overcharged. Instead use Uber, Bolt or a bit cheaper is Yandex taxi where you can only pay cash. City centre rides should not exceed 5 €. A ride to Chernobyl…well, that's not possible. Cars also need a special permit. And taking a taxi will not make it the cheapest Chernobyl tour.
3. How can I get from the airport and not go broke?
Photo: skybus.kiev.ua
Taxi – a ride to the city centre from Boryspil airport will cost you around 10-12 €, Zhuliany airport will be half of that. For Boryspil airport consider also taking the train to Central railway station for only 3 €. Here is the timetable. Skybus is a shuttle bus from Boryspil, it runs every 15 minutes and takes only 10 minutes longer than the train get to the Central railway station for the very same price. For exact times, even planning trip further by bus check out here.
4. How can I get good accommodation in Kyiv for a great price?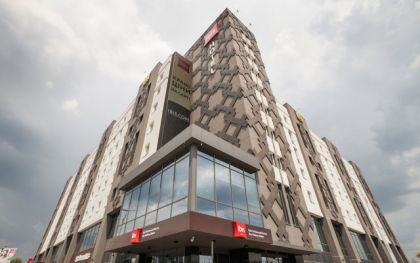 Photo: Hotel Ibis
For a good sleep, clean, very accessible, and with a 25% discount if you are travelling with CHERNOBYLX, the Ibis hotel near the Central railway station is the first on top of my mind. The 40-50 € per night in a double room seems like a deal. Another good reason to at least travel with your spouse or best friend is to split the costs. And by the way, this is the closest hotel for our pick up point for the Chernobyl group tours. Your One day Chernobyl tour or Two day Chernobyl tour basically start in front of the hotel on the other side of the road.
For something modest, yet also clean, and in the city centre of Kyiv is the Dream Hostel or the Petrani Hostel. Spending time with other people in bunkbeds for some 10 € a night might be worth considering, but maybe not in the time of the Corona pandemic. Alternatively, AirBNB is a great way to find a good accommodation as well. Anything below 25 €/night/person is a great deal. Do not worry about the address, our driver will find it and, pick up for your Private Chernobyl Tour is completely free.
5. Where can I eat on a budget?
Chernobyl Meal
I know, we foreigners trust only brands we know like McDonald's, Subway, or Domino's Pizza. In Kyiv, they are affordable like elsewhere, however more quality meals for much cheaper can be found, for example in the Puzata Hata restaurant chain. You do not even need to know Ukrainian and you can pick some local specialty from a buffet and simply pay for it at the checkout till. Great choices for breakfast, lunch and dinner.
Very similar meals of traditional Ukrainian cuisine are also served during our Chernobyl tour, so you can get your stomach prepared. Please, there is no need to pack food for your Chernobyl trip, as we serve meals 3 times a day (on more day tours) and 1 big lunch on one-day tour. You will not be starving. Visit Chernobyl cheaply, but do not suffer with shitty meals.
And if you are the one interested in the Chernobyl babushkas, you might also like to try their cooking mastery.
6. Caravan or motorbike – how can I get to Chernobyl cheaply?
Well, you will not find a lot of caravan friendly or camping sites in Ukraine, especially talking about the absent bathrooms. Anyway, you are free to come along to Chernobyl and we will have a camping site ready for you next to the entrance of the Zone. Only 15 €/per person a night, breakfast and dinner for some 6 €/per meal. We will gladly issue a permit for your caravan or car, if our guides fits in with you. The extra 100 €/day deduction of the total tour price will make your Chernobyl trip cheaper and maybe also more comfy.
Just hope you do not have a tour bus like a superstar, that would make your exploring very limited. Pssst….that is one of the reason we never do big bus tours to Chernobyl – you simply cannot enter a lot of the Chernobyl gems.
7. Chernobyl – how do I save on my tour?
Chernobyl city
A day in Chernobyl is more affordable than a day in Legoland or the Vatican (BTW you can find a great reading in comparing the safety in Popes land and in Chernobyl here), however getting to Chernobyl is not cheap either way. Tour operators are having pretty much the same costs, where the biggest cost is the permit for foreigners, which is quite pricy (hopefully at least, they will make nice toilets for tourists in the near future!).
You can save money by using a Ukrainian Chernobyl tour operator, where you will suffer a lack of comfort in an old, unclean bus with 30+people, or maybe a lack of safety (you can even find guides without a Geiger Muller counter leading a group), or a guide with a low level of information or lack of language (some foreigners think they will save by taking a cheap tour finding out later that it is mostly a Russian speaking group), or not having meals or a Geiger counter for yourself. You can tell you have been to Chernobyl but you will see just the most famous places. From the outside. Or from the window of the bus as it happens on the cheapest Chernobyl trip. You can spend 5 minutes of reading about what the exact differences between the quality of Chernobyl trips are here.
Going illegal is not a good idea either – why? Read here.
Pripyat city – Amusement Park
At ChernobylX we don't know how to do low quality Chernobyl trips, and I would personally never save on the most important part of my trip. Like going to Disneyland, but only to buy a basic ticket and wait in line for the attractions, or going to your favourite music concert and buying a ticket on the last row. With us you can save on your Chernobyl trip if you travel with 3 other friends (10% off on 2-day tour), or if you go by your own car (-100 €/day from total tour costs).
So wait a moment, you want to tell me that I can save everywhere and then you will leave me with a full price for the Chernobyl tour, Dominik? I know, times are hard. The great news is that we temporarily decreased our Private Chernobyl Tour prices for everybody as we all prefer some Corona – body distancing these days. And if you are looking for an extra 5% discount, write this discount code BDGT2020 at the end of your Chernobyl tour order. This is a treat for you for reading this far. I see you really mean it with your Chernobyl experience. Feel free to use it (however, not combine) until the end of October 2020.
BONUS
Well, during my travelling back and forth to Ukraine I also found ways, not just to save money, but also to earn some. Well, frankly speaking I did not earn anything this way as I brought most of the goods as gifts within my tour budget. But you can actually buy alcohol and cigarettes very cheaply in Ukraine and resell it back at home. Just check the custom's limits of your country….otherwise you might end up drinking a whole bottle or smoking the whole pack at the borders. 😀 Not a cheap Chernobyl tour but still the best of your lifetime!
P.S.
When I am taking groups to Chernobyl, many tourists tell me, that they have spent much more money in Kyiv than for their Chernobyl tour, or flight ticket. Ukraine seems to be cheap when compared to our European price tags, the Chernobyl tour is still a great deal compared to the prices of touring some tourists attractions in the US, Canada, or even the EU. And so we, foreigners, tend to spent more, as we believe we will save with buying stuff, getting drunk or having a steak in Kyiv. Taking your Chernobyl tour within your budget means to stick to your rules, don't buy unnecessary stuff, and don't overeat or over-drink. It is not about the cheapest Chernobyl trip, but about a memorable one, which might also mean less clutter and less alcohol in your blood.
My practice is after flying in to Kyiv to set a budget, change the money so I have cash in Ukrainian hrivnas. If I am very good, I always bring some money back home or I buy more products for my beloved babushkas when on my Chernobyl tour. Visiting Chernobyl babushkas becomes more than Christmas to me.
Share on Social:
Main tours
Chernobyl diaries
If you waited for a sign,
this is it...